HORS D'OEUVRES
Stationary Hors d' oeuvres Displays
Basic Cheese Table ~ Cubed Cheddar and Soft Cheese Spread, Assorted Crackers 4.99
W/ Strawberries dipped in White and Dark Chocolate and Frosted Grapes ~ 7.50
Deluxe Cheese Station ~ 2 Wheels/ blocks of Domestic Cheese, 1 Baked Brie w/ fruit topping, Cubed Cheddar Cheese, Assorted Crackers, Fig Preserves and your choice of 1 spread. Garnished w/ grapes ~ 12.99
Vegetable Crudité ~ Assorted raw vegetables with dip 4.50pp / 3.00pp added on to a cheese table.
**Add on any of the following spreads to your cheese or vegetable table:
Cold Spreads ~ Pesto, Sun – dried Tomato & Roasted Red Pepper spread, Garlic Hummus, Eggplant Capponata, Olive Tapenade 1.95pp each (as add-on)
Hot Spreads ~ Buffalo Chicken, Crab Rangoon, Spinach & Artichoke 1.95pp each as add-on
Breads & Spreads Display ~ Choose 3 spreads from the hot & cold lists, served with sliced baguettes and Tuscan rustic loaf 7.00pp
Antipasto Display ~ Display of Italian specialties including Prosciutto, Capicola, Salami, Provolone cheese, Caprese skewers, Mediterranean Olives, marinated mushrooms and crostini 13.99pp
Seafood Display ~ Jumbo Shrimp cocktail, little necks on the half shell & oysters with cocktail sauce and accompaniments ~ 13.99 pp Add Lobster Salad Sliders…7.50pp If you would like a chef on display shucking to order, there will be a $75 chef fee.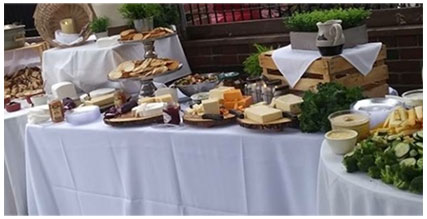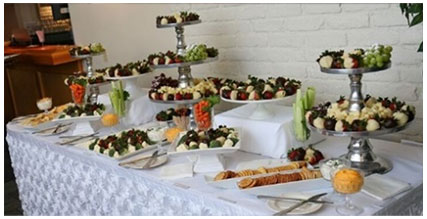 ***Specialize any Menu***
Champagne, Wine or Sparkling Cider Toast
And circulated Hors d' oeuvres (4 per person- house selection)
$9.00 per person
Butler Style Passed Hors d' oeuvres
Hot Hors d' oeuvres (priced per 100)
Coconut Shrimp

190




Mac & Cheese Bites

180




Crab Stuffed Mushrooms

190




Clam Cakes

175




Mini Crab Cakes

225

Apple Fritters

160




Scallops wrapped in Bacon

300

Clams Casino

250

Chicken Skewers (BBQ, Teriyaki or Buffalo Flavors)

190




Beef Teriyaki

190




Buffalo Chicken Tarte

200




Swedish Meatballs

180




Chinese Egg Rolls

180




Mozzarella Sticks

180




Four Cheese Bruschetta (served on homemade pizza crust)

180




Spanakopita (Spinach Pie)

200

Key Lime Chicken w/ Pineapple Mango Glaze

225

Beef or Chicken Quesadilla

180




Mini Beef Wellington

300

Beef Franks in Blankets

180




Goat Cheese & Apricot Tartlett
Cold Hors d'oeuvres
Melon & Prosciutto Basil Skewer

200

Shrimp Cocktail Shooters 275

Cucumber Rondelles w/ Crab Meat

175




Crostini with Goat Cheese & Candied Bacon

190




Whipped Ricotta with Balsalmic Blackberries & Honey Crostini 190

Fresh Fruit Kabobs

Market Price
**CONSUMER ADVISORY - Consuming raw or undercooked meats, poultry, seafood, shellfish or eggs may increase the risk of foodborne illness.
Please advise server of food allergies or dietary restrictions prior to meal.
All prices are subject to a 20% service charge and 8% state and local taxes. Prices are subject to change
© 2019 Twelve Acres